Glamour world is extensively alluring. Hence, it bewitched most of the artist in varied entertainment mystique-Kollywood, Tollywood, Bollywood and other movie wood.
You are certainly aware of Biraj Bhatta, who linked Nepali cinema industry and Bhojpuri entertainment industry within his acting potential. Similarly, Nepali actress has been adjoining their efforts for Bhojpuri fame.
Rekha Thapa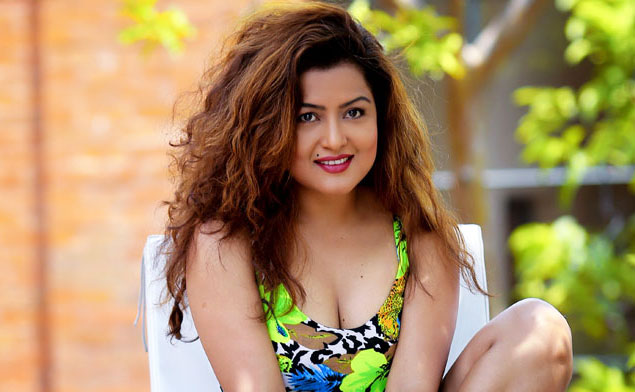 Talented actress Rekha Thapa debuted from the movie Hero alongside Rajesh Hamal. She is frequently known for her dauntless sex appeal in Nepali glamour side. She is hugely active in Bhojpuri likewise Biraj Bhatta. Some of the movies of Rekha Thapa is khalnayak, jwalamukhi, mard, Rikshawala and so on.
Jenisha KC
Nepali actress Jenisha KC debuted in Nepali movie industry in 'Giraftar'. After that, she had acted in a number of other movies- Ek pal, Soldier, and action but did not do well in box office. Jenisha KC is being featured in a Bhojpuri film produced by Bollywood actress, Priyanka Chopra. The movie is made under the 'Purple Pebble' banner, under the ownership of the mother of Priyanka Chopra, Madhu Chopra.
Mithila Sharma
Mithila Sharma is a legendary actress and dancer, contributing her dedicated since the age of nine years old. She performed in front of late King Birendra, when she was only 9 years old. She has a remarkable presence in Nepali movies, Tele-serials and dancing premises. She has acted in Bhojpuri movies like Sabse Bade Rupiya opposite Nikhil Upreti and Sweta Tiwari.
Saujanya Subba
Saujanya Subba is popularly known as the TV serial character from Purush. She did a TV serial for 8 years and entered movie industry of Kollywood, Tibetian movies and Bhojpuri movies. She has a notable presence in Maya gara La, Ma Cha Ni Timro, Chaya, Apaharan and much more.
Sushma Adhikari
Sushma Adhikari has started her career in the acting of the nepali movie industry in may of 2014. She debuted from the movie Pipal. Before starting her acting career, she was a successful model. Then, she was casted in Anautho Prem Katha but failed vigorously at box office. Her Bhojpuri movies are Deewana 2 and Jaya madesh.
Namrata Sapkota
Namrata Sapkota initiated her career in glamour industry while she was studying t Grade 11. Her first movie was Antaraal which proved to be hit at box office. She has also starred along Deepak Raj Giri, Priyanka Karki, Kedar Ghimire and Jitu Nepal in the blockbuster movie Chakka Panja during 2016. The young and energetic actress is also planning to join the Bhojpuri movie industry.
Shovita Simkhada
She has shaped up her role of bold and sexy character from the movie called the last kiss and many other movies she has done are Afnai Manlai Sodhi Hera,Timi binako Jiwan, champa Chameli  and so on.  She has intensified Bhojpuri industry via item number.
Paru Gautam
Though her presence could not add benefit in Nepali box office collection despite her charisma, she has proved to be a demand actress in Bhojpuri movies. Movies of paru Gautam in Bhojpuri movies are Hum Deewane Ho Gayel, Tohar Fatal Jins Dekhi Singer and much more.
Subhechha Thapa
She is tangled in many controversies because of her bold image in public. Nepali actress Subhechha Thapa has been featured in Bhojpuri movie opposite Biraj Bhatta and Rekha Thapa. Some of her movies Dilawale, Kabza, Love ke Janjeer are adored by Bhojpuri fans.
Rejina Upreti
Rejina had started acting in a television serial of Laya Sangraula. The role she played int he TV serial – a simple village girl was liked by the viewers. Although Rejina is not active in the film industry as an actress, she was elected the vice-president of the Nepal Film Artists Association. She has acted in Bhojpuri movie Jwala opposite Biraj Bhatta.
Tags -
bhojpuri movies ,
nepali actress ,
mithila Sharma ,
glamour ,
biraj bhatta